I've been following Mike Sterling since … I think we'd call it "back in the day." Always a worthwhile, humorous mix of insight on comics and comics retailing. Always a must-read, even when the jokes are at the expense of one of my favorites. As in a recent post on the current back issue market:
Yes, it's great that Power Pack #27 is listed as being $3.00, but does anyone care? Is someone going to rush into the shop demanding to buy Power Pack #27 Right! Now! Unless I'm completely out of any copies of Power Pack #27, and if the copy is still in brand-new condition, and if I can get it cheaply enough, I'd buy it. Maybe.
Here's the thing: I long ago gave up the idea that my comics collection would be worth much of anything financially. I've never been good at choosing "solid investment" comics. Mostly because investment comics seem to be predicated on a whole lot of factors that rarely, if ever, apply to my own comics-buying decisions.
Take that issue of Power Pack, for example. I'm fairly certain that sad little price bump has to do with elements like the Wolverine and Sabertooth guest appearance, and the issue's place in the "Morlock Massacre" event. As far as I'm concerned, though, the real reason someone should want that issue–and the reason why I'll think about selling my own copy when I'm six feet under–is that it has one of the most heart-wrenching examples of grief I've read in a comic book.
Let me set things up a little, here. Earlier in the issue, Power Pack found Leech's adoptive mother (who was the kids' own "special grandmother"), slaughtered by The Marauders. Franklin Richards, recently back from space with the Power kids, believes his own parents have run off on an adventure, and not even noticed his absence.
As the other kids are waylaid by X-Factor asking about them, one scared five-year-old boy fighting his own abandonment issues is left to do his level best to explain death to another young boy who only recently had anyone to call family at all.

The older Power kids try their best to do better, but it's still children trying to tackle mortality. It's sloppy and messy, and all goes south as quickly as you might expect.
Even know-it-all, pre-teen me got weepy reading this whole sequence. Okay, I got more than weepy. I was a sobbing mess. Seriously, there was such an overwhelming amount of wrongness with the world in just a few panels, and I wished more than anything that Louise Simonson would pull one of comics' magical non-deaths here. Please. I don't want to see Leech cry anymore. Hell, even now I tear up re-reading that echo-y, soul-wrenching cry of a child begging the world to turn back the clock: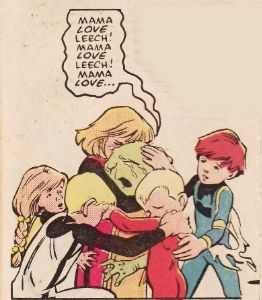 (panels from Power Pack #27. Words Louise Simonson, Pencils Jon Bogdanove, inks Al Gordon, colors Glynis Oliver)