I suppose I could pretend that tonight's little project was inspired by part one of the Project Runway finale, but not so much. It's the fanboy within. He occasionally latches onto something and can't let go. I'm not sure this constitutes a real tutorial, but I had a vague amount of fun with this, and if my blog title means anything, it's stuff like this, right?
So, I'm on a bit of a mission to make myself a set of Power Pack t-shirts. My fiancée helped me put together a prototype of sorts earlier in the year. For Halloween, we're making a go at another. This time up, we're going blue for Jack Power / Mass Master.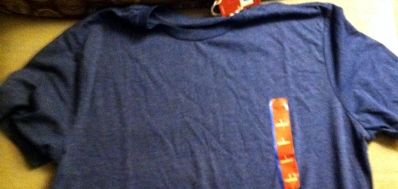 For the symbol, I already had a ready-made template, since I'd previously done an iPhone wallpaper with the same pattern. I blew that up to a couple of different sizes and printed those out so I could try them out against the shirt.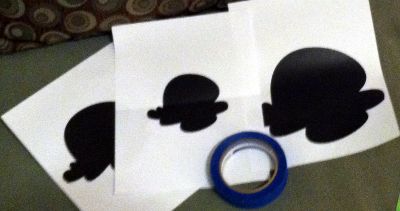 I had thought I'd want the largest one, but after I put it up against the shirt, and realized I'd want room for the line which connects each Power Pack symbol with the edge of its bounding box, I wound up going with the middle size. Next, it's fun with Frisket Film, a low tack adhesive film I found out about a while back.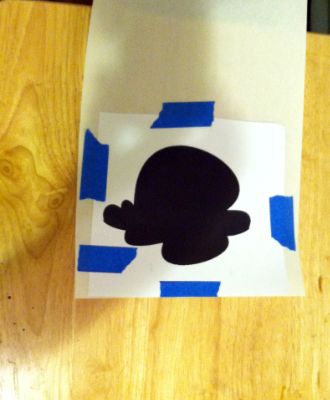 I knew I was going to save myself some cutting effort and just use tape to mask off the line itself, so I only needed to have the cloud symbol. I suppose I could have cut the line out of the Frisket, but (1) the film is a bit stretchy, which makes it kind of finicky, so a bulkier piece is easier to handle than a long thin one. Also (2) the exact-o knife and I shouldn't be around each other any longer than necessary. Me + cutting objects = worrisome.
Okay, anyway, I managed to cut out the cloud. Everything else about the design is squared edges and lines, so that just involves painter's tape. It's a shirt, so I don't know that I really need low-tack, but the less trouble I have getting the sticky stuff off, the better. Less residue & less stretching. So: painter's tape.
After the taping, it's me and a sponge brush and the specialty fabric paint my fiancée ordered. A lot of dabbing and a bit more having to pay attention at the collar (it's a pain trying to tape off the collar, so we go with careful, instead).
It's not totally solid black, but I actually like that. I tend to prefer the silk screening that looks a little distressed. From here, it's some careful tape and stencil pulling, and …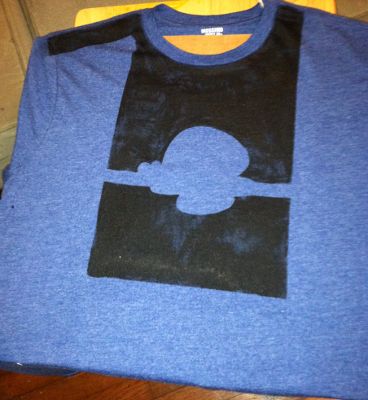 I have to let this dry overnight, then I can use tape and some more paint to put the stripe down the right side. After that, it's the half of this couple who sews, as I exploit my relationship to swap out the right sleeve with a black one from another t-shirt. But the biggest graphic part of it's done, and my little fanboy heart, she warms.