Something of a sequel to the original Pan Wanted Promo. Seems only fair: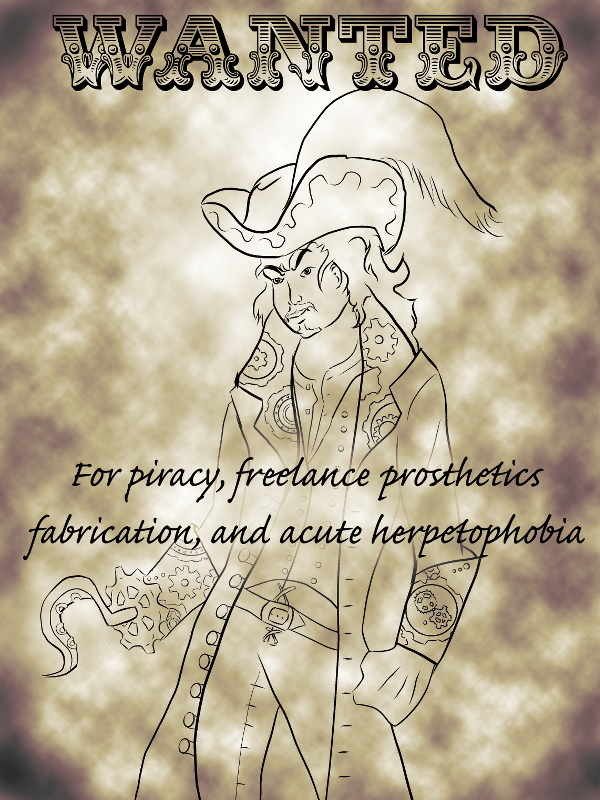 The base layers are recycled from the other image, obviously. Hook himself is a newer experiment. I got Manga Studio during a crazy-cheap online sale. I'd been reading / hearing in several places that it was great for digital inking, so it seemed worth the low price to give it a try.
Hook here is my first time trying to ink with vector graphics, using MS. It's not amazeballs, by any means, but I do feel like once I get used to things and figure out what settings work best, it will be nice for line art. I definitely liked being able to tweak lines after I drew them. And the "erase intersection" tool is sweet. I was able to concentrate on trying to draw through / past lines for a bit more smoothness, then I just had to tap the extra line, and poof: gone.
I had some trouble bringing it into Photoshop. At first, every time I tried to re-size, the lines turned into a crazy-jagged mess. Turns out I just didn't notice the exported image file was in bitmap mode, and I just had to change it to grayscale / color for things to even out.
It's still a little jagged, but I think that's probably a mistake I made 'inking' at too low a resolution. I'm used to 300 dpi being plenty good for color work, but I think the nature of vector graphics means I may need to use a higher resolution for those.
Or that might be another red herring, but we'll see. In the meantime, Hook was a fun first go.
(For more information on the show itself, you can check out Manatee Players' website here.)