I didn't make quite as many promo posters for our upcoming local production of Peter Pan as I intended, and with the holidays and a show I'm actually in starting to rehearse, this is likely the last. I did want to get some equal time for our antagonist, though.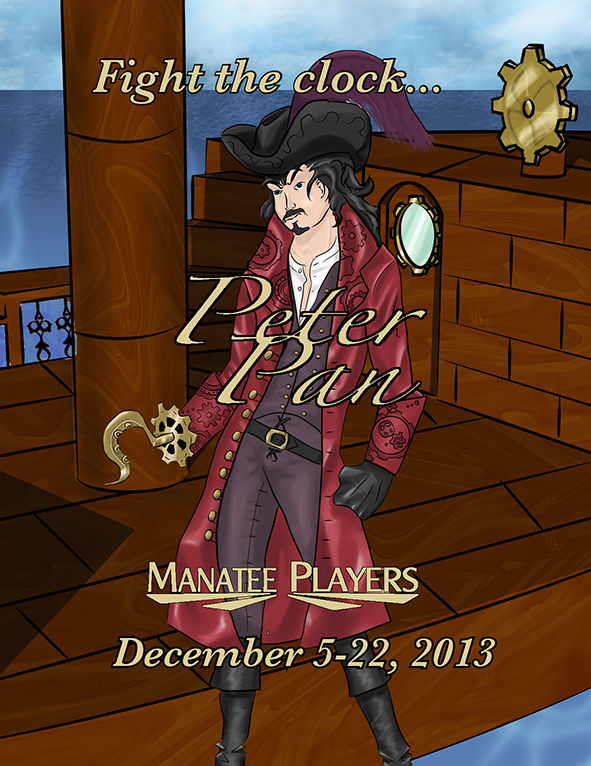 And the Facebook version for those so inclined:

I think I did a better job with Hook than Pan of getting that more animation-y palette I was wanting. Also, I got to play around with a few different material textures, with the shiny leather of the coat and the brass in the hook.
I also got to play around with Sketchup, which is where I built the base model for the ship. This was my first time playing with it, after seeing it suggested over on ye olde Ctrl + Paint. I know my own perspective skills are sorely, sorely lacking, so I figured I'd give it a shot.
It worked pretty well for what I needed it for. I basically just put together the very basic shapes of things, then I was able to spin it about until I got an angle I liked, and use that as my guide for the line work. Helped, too, when it came time to do some of the shadows.
While I got lazy and found some free custom brushes to (awkwardly) render the water and cloud textures, the other thing I got to play with the first time with this: trying to make a wood grain. This isn't bad for a first shot, though it still feels a bit "look at me! I'm wood grain patterns!" Still, learning curve and all that.
Also, I've been playing with clock-inspired taglines for ages, so I'm happy I got to do one. 🙂