Yes, I disappeared. I don't know how widespread the term "Hell Week" is when discussing the week and change leading up to a show opening, but, well … yeah. That's where I've been. I did, however, manage to put together all those D(r)oodles I've been doing and take another crack at some marketing materials. Wonkery to follow, but pictures first (click each for zoomy biggerness).
I tried a horizontal layout (around legal paper size) first, as I wanted everyone more or less on the same level: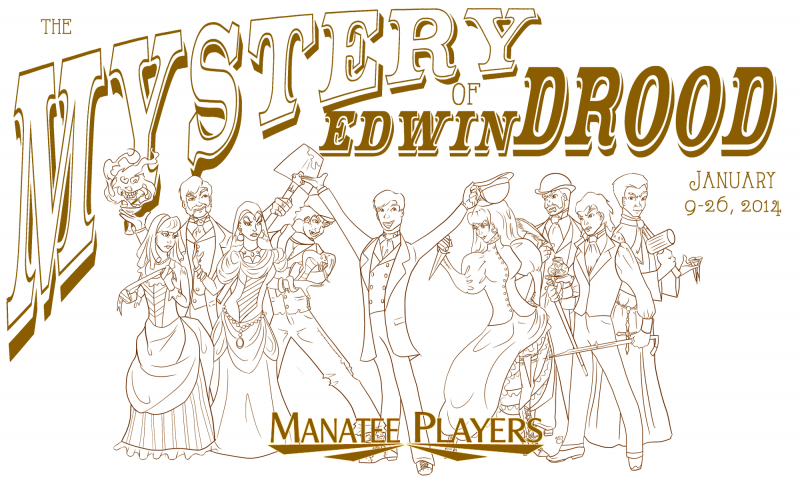 Then, because normal paper is easier to print on, I tried vertical: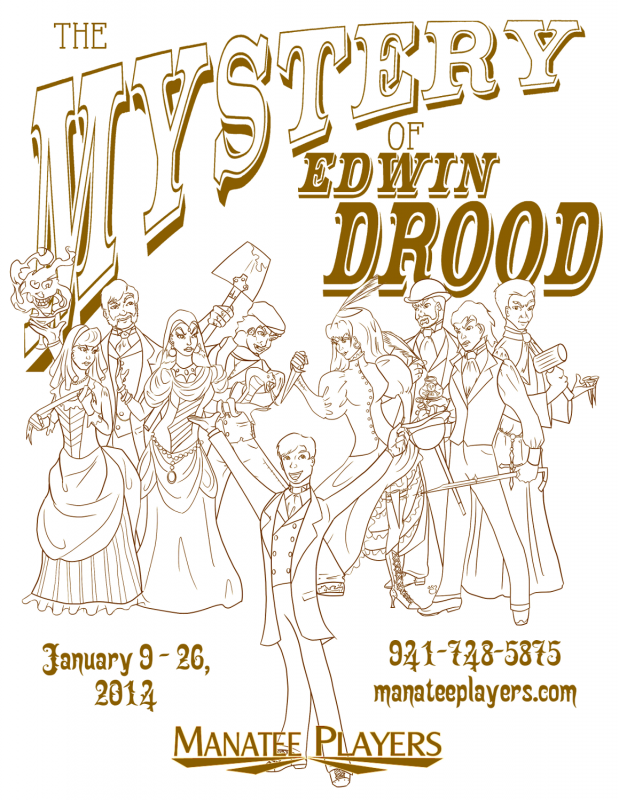 I started with the scanned sketches, pulling them all into a layered document and shuffling them around until I had two groups of four that I thought fit well together. I wanted to make sure I got everyone's face and his or her "weapon of choice" visible. I used masks to chip away elements that other characters would cover without losing my lines if I changed my mind (which I did several times). That also helped when I switched layouts, since Drood covered different bits then.
Durdles was originally meant for the right side group, but I realized when I started piecing things together in the mockup that he and Princess Puffer had almost identical body lines, which looked repetitive in that context. One of them was going to have to move. I needed/ wanted to keep Puffer's knife sheathe exposed, since I feel that's what gives her weapon character beyond "pointy stabby." It was easiest, then, to flip Durdles, since his raised shovel made it a lot easier to slot him in behind the other characters without losing him and his. Bonus points for their mirrored body lines providing a bit of a frame for Drood.
Since I knew I wanted multiple layouts, but that the groups of four would be the same either way, I made three documents for inking: the left group, the right group, and Drood on his own. Then I pulled those into Manga Studio to have another crack at vector inking. I think I'm getting a better handle on some workflow, though I'm still not sure on line weights. The thick lines seem heavy handed, but thinner ones have a tendency to disappear when I go light on the pressure for variance. Learning curve and all that, I suppose. Still, for the most part I think things cleaned up reasonably well.
The inks got exported back to raster for compositing, where I scaled things around, then did some text skewing and reshaping until I liked something for a logo. Then I added a sepia toned layer on top in burn / color burn, eh voila: Victorian postery stuffs.