It's probably incredibly understated to say that I'm really not an American Football guy. I'm not much of a traditional sports fan in general. So I definitely don't follow much of the media surrounding sports, either. It was only via Rebecca Eisenberg on Upworthy that I ran across Katie Nolan's recent discussion of the place of women in sports and sports media:
It's worth a watch, and a lot of thinking and talking and thumbs ups. Then I Googled Nolan to see what responses might be out there to her piece, and I found myself fairly disheartened by the headlines: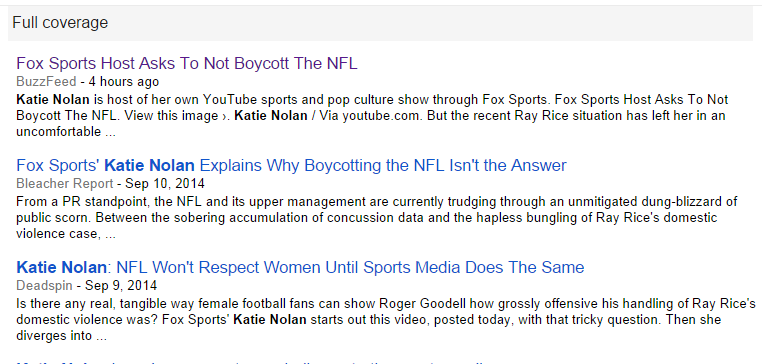 I mean, you have to get to the third article in the list before the headline is about the primary content of the video, and not "Don't boycott the NFL!" which, you know, seems to spectacularly miss the point.
I was wholly prepared to start taking people to task for headlines which so clearly buried the lead in something that looked like nothing so much as corporate shilling. Except that clicking through, I saw that both of those articles pretty evenly move from the "no boycott" into the larger commentary on women in sports / sports media.
And then I realized my Google search is ordered by "relevance," which in Google terms largely relates to how many people link to / click links to the articles in question. A realization which was, honestly, even more depressing.
Because that means those first two articles got more attention than any of the others with headlines that directly address the feminist concerns of the video. While I'm not especially keen on manipulative headlines that feed web hits, it's an even more sobering realization that, apparently, the very mention of feminism and/or sexism in relation to sports media is a whole lot less interesting than "This lady says it's okay to keep watching our sports!"
Which pretty much makes Nolan's point for her, I think. When you have to sideline the very topic of sidelining women, the double-secret probation becomes rather painfully clear.
And yes, that's exactly why I titled this blog post the way that I did.